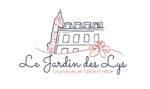 Stay light porcelain course! »With Passage Secret, porcelain craftsmen in June 2020
An all-inclusive course, arrival Sunday evening at the Jardin des Lys, departure Saturday at the end of the morning.
An incredible opportunity to discover from the inside the secrets of this delicate art, this specific know-how of Yael and Guillaume
http://atelierpassagesecret.fr/
A program that combines techniques, practice, discoveries in a setting conducive to conviviality.
All details on request by phone or email at 05 55 56 63 39 / le-jardin-des-lys@orange.fr
"Each trainee has his place and his working tools. At the end of the day there will be time for storage and cleaning to return to a clean space the next day.
The welcome is important! We start the day with coffee / tea and discussions, until everyone arrives and takes their places.
Noon is important too! We take care of the lunch, but if you want to bring a little extra, to make us discover a specialty from your home or a sweet for coffee, do not hesitate!
For the material, you can come with your own tools if you wish and a blouse or an outfit that fears nothing. "
Prices :
With all inclusive single room excluding outings: € 910
With Single room without linen excluding outings: 850 €
With all inclusive double room excluding outings: € 730 / Non-trainee companion: € 290